Condensed Geology: Mid-Atlantic States

Along the US East Coast from Pennsylvania to Alabama the large-scale geology is dominated by the aftermath of the continental collision ~300 million years ago.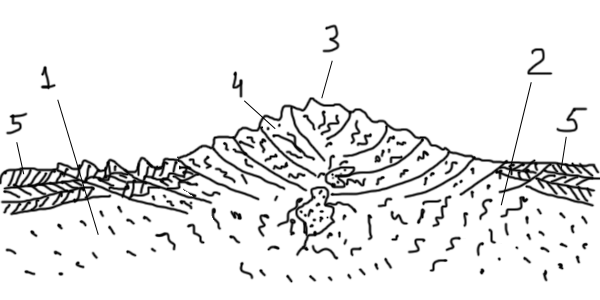 Figure 1
350-300 MYA. Alleghany orogeny. Collision between Laurentia (1) and Gondwana (2) raised Ancient Appalachians (3), a Himalaya-scale mountains in the middle of Pangaea. The core of the mountains was formed by faulted and folded intrusive and metamorphic crystalline rocks (4). On both sides of the mountains sedimentary layers (5) were partially deformed.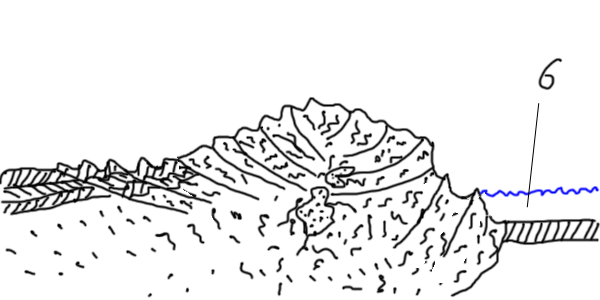 Figure 2
200 MYA. Pangaea broke apart along the line close to the original continental joint. Atlantic Ocean (6) opened to the East of Ancient Appalachians.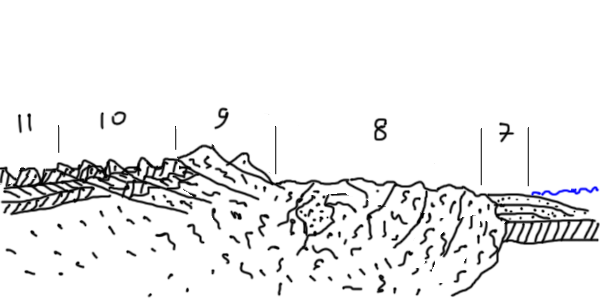 Figure 3
Today. Erosion removed most of the Ancient Appalachians, depositing the material into Atlantic Ocean and forming the Coastal Plains (7). Exposed crystalline core of the mountains, eroded into rolling hills, forms Piedmont (8). Most of the East Coast rivers form waterfalls when crossing the boundary between Piedmont and the Coastal Plains. Remnants of the faulted blocks of crystalline rocks form the Blue Ridge (9). Folds of predominantly sedimantary rocks are eroded into long parallel ridges of the Valley and Ridge Province (10). Relatively undistrubed sedimantary layers of Allegheny Plateau (11) are also deeply cut by erosion.
Martin F. Schmidt Maryland's Geology Tidewater Publishers, 1993, ISBN: 0870334379
Keith Frye Roadside Geology of Virginia (Roadside Geology Series) Mountain Press Publishing Company, 1986, ISBN: 978-0878421992
© November 02, 2010, Yuri Wolf / YuriKira.com